Well, what can i say, its taken 3 months (about) to judge but finally they are up. I was so impressed with the turnout, and im hoping that it continues. It makes my job a bit easier! In this New Section, i will explain why the Telpeath's Choice Award was Awarded.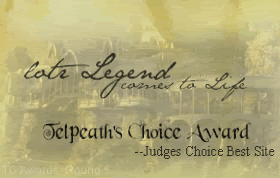 Lotr Legend Comes To Life:
What Can i Say! I have seen your website start, and grow to being what it is today. It used to be such a small website, and now it is an information...and affiliates...powerhouse. You are the winner of the award for your outstanding information, updates, layout, and so much more. Those are the key things i look for when desiding the winner of the Award. Again, Congradulations to you, and too All!
Winners for Round 5
---
Well, without any further adeu, these are the winners of Round 5. Congradulations, and please sign up again!.